RETAILERS

The Liquor and Cannabis Regulation Branch (LCRB) will be responsible for licensing private stores and will monitor the retail sector, which will consist of private stores and government-operated stores. The rules governing retail stores will be similar to those currently in place for liquor, and public and private retailers will have similar operating rules.
You can also find detailed information on LCRB's website.
The Liquor Distribution Branch will be the public retailer of non-medical cannabis, and is currently investigating suitable locations to open its network of BC Cannabis Stores throughout the province. The LDB will be working closely with municipalities that have developed appropriate zoning to enable the retail of non-medical cannabis. Download a copy of the LDB's BC Cannabis Stores guide for municipalities.
HOW THE WHOLESALE DISTRIBUTION SYSTEM WILL WORK
The LDB is engaging with licensed producers, from whom we will purchase non-medical cannabis. Non-medical cannabis products will be safely transported to the LDB's warehouse by appropriately regulated transport agents. As part of its wholesale distribution system, the LDB will provide product ordering and delivery services to both public and private retail stores. 
While the initial product assortment available to retailers will be largely determined by product availability of the licensed producers that we partner with, we eventually plan to seek the input of the private retail community to drive the assortment strategy.
More information will be provided on this website as it becomes available.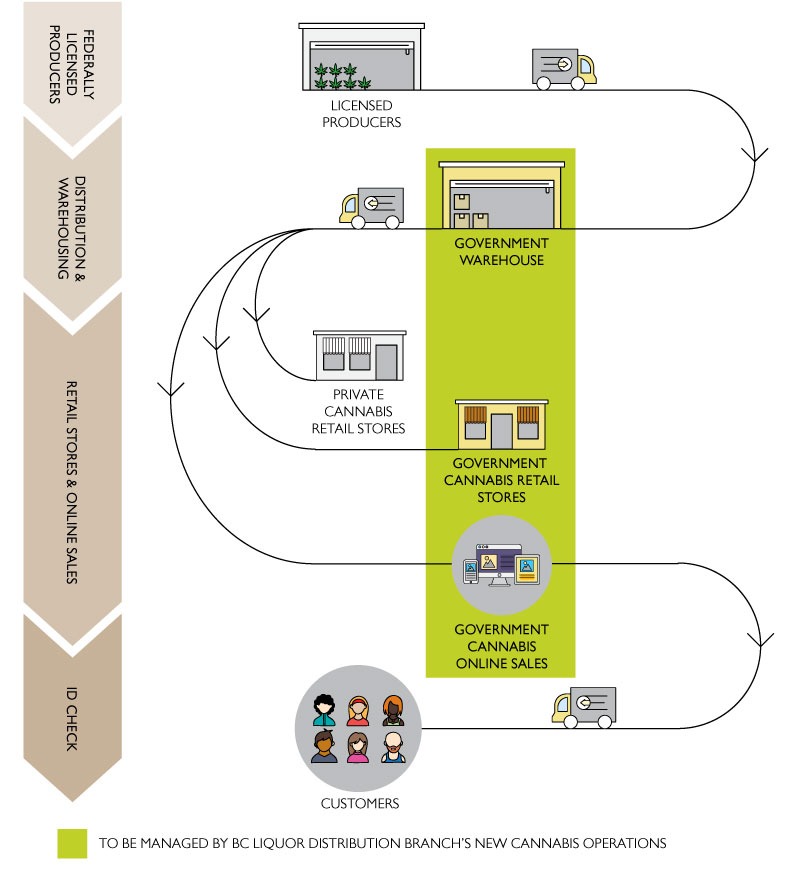 FAQ
Not at this time. The province may consider exceptions in the future but, for now, a cannabis retail store must be a self-contained business. There may be exceptions for rural stores, similar to rural liquor stores. The criteria for determining rural areas are currently under development.
Government is following the recommendations set down by the federal government's task force, which cautioned against co-location alcohol and cannabis, a position supported by BC's medical health officers. They believe co-location might be seen to condone and encourage co-use of cannabis and alcohol, which is particularly dangerous with respect to impaired driving.
Also, that placing and selling cannabis in liquor stores would lead to a larger proportion of the population being introduced to cannabis, including many who might not otherwise encounter it.
Public and private stores will be allowed to sell dried cannabis, cannabis oils that comply with federal requirements, and seeds. Stores may also sell 'cannabis accessories', as defined in the proposed federal Cannabis Act, i.e., rolling papers or wraps, holders, pipes, water pipes, and bongs used in the consumption of cannabis, etc.
LDB will distribute pre-packaged product only, with labelling compliant with federal standards, in ready-to-sell formats (no bulk products). The product brands belong to the licensed producers. Retailers will not be authorized to re-package the product with their own branding. Information about specific size formats will be confirmed at a later date.
The province is not capping the number of licenses issued. However, local governments will have the authority to make local decisions based on the needs of their communities. This means that some local governments may choose not to allow retail cannabis stores, while others may choose to limit the number and location of stores that are permitted to operate within their jurisdiction.
Government-run cannabis retail stores will comply with zoning bylaws, safety codes and business licensing requirements in the municipality where they want to do business. Public engagement and consultation will be predicated by regulations unique to those communities.