RETAILERS

The Liquor and Cannabis Regulation Branch (LCRB) will be responsible for licensing private stores and will monitor the retail sector, which will consist of private stores and government-operated stores. The rules governing retail stores will be similar to those currently in place for liquor, and public and private retailers will have similar operating rules.
You can also find detailed information on LCRB's website.
The Liquor Distribution Branch will be the public retailer of non-medical cannabis, and is currently investigating suitable locations to open its network of BC Cannabis Stores throughout the province. The LDB will be working closely with municipalities that have developed appropriate zoning to enable the retail of non-medical cannabis. Download a copy of the LDB's BC Cannabis Stores guide for municipalities.
HOW THE WHOLESALE DISTRIBUTION SYSTEM WILL WORK
The LDB is engaging with licensed producers, from whom we will purchase non-medical cannabis. Non-medical cannabis products will be safely transported to the LDB's warehouse by appropriately regulated transport agents. As part of its wholesale distribution system, the LDB will provide product ordering and delivery services to both public and private retail stores. 
While the initial product assortment available to retailers will be largely determined by product availability of the licensed producers that we partner with, we eventually plan to seek the input of the private retail community to drive the assortment strategy.
More information will be provided on this website as it becomes available.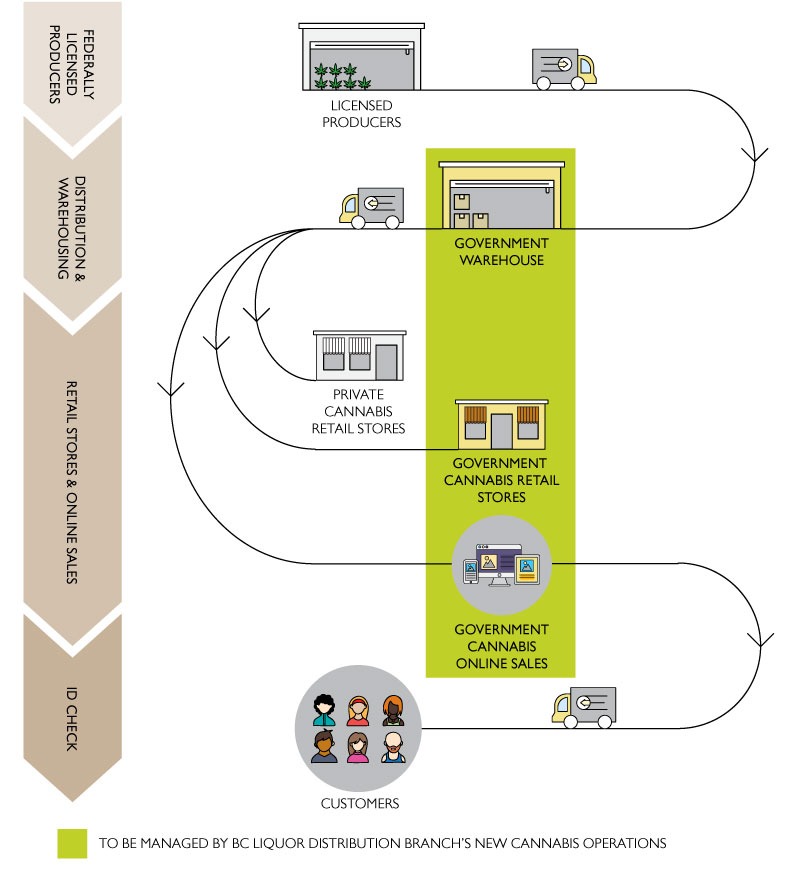 AVERAGE WHOLESALE PRICING FOR RETAILERS  
The figures below represent the average LDB wholesale price of non-medical cannabis for each of our product segments: good, better, best, and premium. These averages include the $1 federal excise tax and 15% wholesale mark-up.
Please note, these figures are based on averages only and do not necessarily represent the final wholesale price of all products. In addition, these prices will likely fluctuate over time as additional licensed producers enter the marketplace, and according to product availability from licensed producers.   

Specific LDB wholesale pricing information will be made available to private retailers once they have received licensing from the Liquor and Cannabis Regulation Branch and have completed the LDB's private retailer registration process.
The LDB will apply a 15% mark-up on the landed cost of cannabis distributed throughout the province to public and private retail stores and the LDB's online store, when cannabis is legalized on October 17. All cannabis retailers, including public stores, will purchase cannabis at a common wholesale price. Retailers will be required to pay the cost of shipping product from the LDB warehouse to their retail outlet.
Retailers can apply any retail mark-up to their product assortment, providing the final retail price is not lower than the wholesale cost.